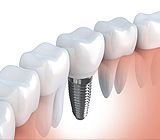 Perhaps you've heard a lot about dental implants, an increasingly popular tooth replacement system. Although they can be expensive (depending on the exact application) they have a number of important benefits that add value to your investment.
Here are four of those benefits that make dental implants one of the best tooth replacement options available:
Life-like Appearance. Like an automobile, an implant's "engine" — the titanium post inserted into the jawbone — is covered by a stylish "body" — the visible crown, custom-made to look just like the natural tooth. Composed of porcelain ceramic or a similar translucent material, the implant crown is the key to not only restoring natural function in the mouth but also rejuvenating your smile.
Long-term Durability. Implants have been in use for over three decades (over 3 million placed since their introduction) and have built an impressive track record for durability. If properly cared for, it's possible for dental implants to last for many years or even a lifetime. Compared with other restorations that may not last as long and lead to additional dental cost, the implant's "return on investment" can be quite high.
Contribution to Bone Health. Most implants are made of surgical titanium, which has a strong affinity with bone. In time, bone cells will grow and fuse with the titanium. The result is not only a solid anchoring of the implant into the jaw, but also the preservation and possible re-growth of bone mass where it may have been lost.
Versatility. Although implants are often used as a single tooth replacement, they're increasingly used in multiple-tooth replacements. A few strategically placed implants can permanently support a bridge (two or more teeth linked together), an arch (an entire set of upper or lower teeth), or as a foundational support for a removable denture, particularly the lower arch.
If you've experienced tooth loss, a preliminary dental examination will determine if you're a potential candidate for dental implant replacement. If so, dental implants could be a way for you to not only restore lost function but also regain your smile.
If you would like more information on dental implants, please contact us or schedule an appointment for a consultation. You can also learn more about this topic by reading the Dear Doctor magazine article "Dental Implants 101."