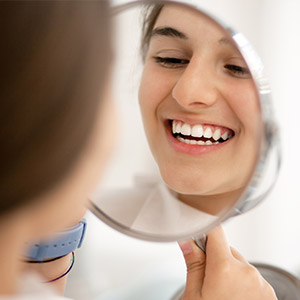 Do you remember your first new car? It purred like a kitten with a brilliant finish you could see a mile away. And my, oh my, the attention you gave it: cleaning, polishing, regularly checking the fluids and other maintenance. That's what comes with pride of ownership—and it's an equally fitting attitude to have with your mouth.
World Oral Health Day is a great opportunity this month to renew your care for your mouth and its primary inhabitants, your teeth and gums. This March 20th, the FDI World Dental Federation wants you to "Be Proud of Your Mouth" for all it makes possible in your life: helping you eat, helping you speak and, of no lesser importance, helping you smile.
So how can you show pride in your mouth?
Keep it clean. Brushing and flossing are the two most important tasks you can do to prevent dental disease and ensure a healthy mouth. It takes only five minutes a day to clear away accumulated dental plaque, a thin film of bacteria most responsible for destructive tooth decay and gum disease. The only catch? To get the most from your oral hygiene efforts, you'll need to brush and floss every day, rain or shine.
Keep it fed. The food your teeth help you eat also benefits them—if they're the right foods. Fresh fruits and vegetables, proteins and dairy items like milk or cheese all contain vitamins and minerals that strengthen teeth against disease. On the flip side, there are foods you should avoid, particularly processed foods and snacks containing added sugar. Sugar feeds the oral bacteria that causes disease.
Keep it maintained. Routine dental visits are just as important for your mouth as routine mechanic visits are for your car. During these regular visits, we'll thoroughly clean your teeth of any missed plaque, especially a hardened version called tartar. It's also a time for us to look more closely at your teeth and gums to uncover any emerging problems that require treatment.
With a little time, effort and discipline, you can protect your teeth and gums from disease, and help them to be as healthy as they can be. The dividends will spill over into the rest of your life, with additional benefits for your physical, mental and social well-being. A healthy mouth is vital to a healthy life.
So, take pride in your mouth and make a commitment today to care for it. And if you haven't seen us in a while, an appointment for a dental cleaning and checkup could be your best move toward healthier teeth and gums.
If you would like more information about best dental care practices, please contact us or schedule a consultation. To learn more, read the Dear Doctor magazine articles "Daily Oral Hygiene" and "Dental Hygiene Visit."