Posts for: June, 2014
By Comprehensive Dental Group
June 23, 2014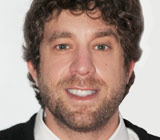 One day, while looking at old pictures of himself, 34-year-old American Idol finalist Elliott Yamin noticed something peculiar. "I [had] figured out how to kind of smile without displaying all my teeth," he told an interviewer with People magazine. The reason: Yamin (like many other people) was unhappy with the way his teeth looked. And others noticed it too: "[They] wrote things in magazines, called me Snaggletooth and things like that," he said.
Yamin's situation came to the attention of dentists from across the country, several of whom offered to fix his crossbite and other problems. One of them even provided the singer with computer-generated renderings of how he'd look after a total "smile makeover" — and that was enough to convince him. Finally, after receiving a set of porcelain veneers and other dental work — all provided free of charge by the concerned dentist — Yamin has the smile he always dreamed of.
You don't have to be an American Idol finalist to appreciate the benefit of having a super smile — and it's never too late to get started! As Yamin found out, a "smile analysis" is the first step, and it's a critical part of the process. This is the time when you and your dentist get to know each other, and begin talking about what kind of a look you want to achieve, and what you should realistically expect.
But it can be tough to express in words exactly what your idea of a perfect smile looks like. Are the teeth completely regular in alignment and "Hollywood white?" A little bit asymmetrical and more natural-looking — or something in between? And exactly how would that look on you? Fortunately, we have a variety of ways to help you make those decisions.
One is computer-generated images, like the ones that persuaded Yamin. Convenient and relatively easy to produce, they're a great way to preview possible changes before a single tooth is touched. However, some people may find it hard to picture their new smile from different angles and in different lights. If you'd like a better representation, it's possible to produce a 3-D model of the proposed work before it's done. This can let you truly visualize your new smile in a realistic way.
If you need even more evidence before deciding, there's still more that can be done. Your teeth can be built up to their new contours with composite resin, a tooth-colored restoration material that can change tooth shape and size with relative ease. A related procedure, the "provisional restoration," gives you a complete preview of the final work. When you're satisfied, the "temporary" materials are replaced with more permanent ones, like long-lasting porcelain veneers. Whichever method you choose, you'll be on your way to a better looking smile.
If you would like more information about a smile makeover, please contact us or schedule an appointment for a consultation. You can also learn more by reading the Dear Doctor magazine articles "Great Expectations — Perceptions in Smile Design" and "Smile Design Enhanced with Porcelain Veneers."
By Comprehensive Dental Group
June 13, 2014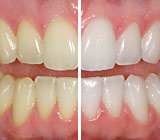 Teeth whitening is an extremely popular remedy for a lackluster smile, and with good reason: It works! So what's the best way to whiten teeth? We recommend in-office whitening treatments or at-home bleaching with custom-made flexible plastic trays. Either of these techniques will give you faster results than over-the-counter products while giving us the opportunity to monitor your individual response to the whitening process.
In-office whitening can produce dramatic results in just one visit. The bleaching solutions used in this process are the strongest available, so we will take precautions to protect your gums before we start. We will then brush the bleach onto your teeth and leave it there for about an hour. Once the session is finished and the bleach is rinsed from your teeth, you will be delighted by the results! If you want your teeth to reach their maximum brightness, a second treatment can be scheduled.
At-home bleaching with custom-made flexible plastic trays is also very effective, though you will bear a greater responsibility for sticking to the treatment regimen. We will first make a mold of your teeth that will be used to fabricate the bleaching trays. When the trays are ready, we will provide a prescription-strength bleaching solution in gel form. We will show you how to line the trays with the gel and then fit them over your teeth. You will generally need to repeat the bleaching process daily for about an hour until your desired results are achieved — usually about two weeks.
Both methods above have advantages over OTC (over-the-counter) whitening products. The most important is that we can verify that your tooth discoloration is purely a cosmetic problem and not the result of an infection or other dental problem requiring treatment. Also, we can monitor your reaction to the whitening process and make adjustments as needed. Finally, we are always available for any questions that come up before, during or after bleaching.
If you are interested in learning more about teeth whitening, please contact us today to schedule an appointment for a consultation. For more information on teeth whitening, please see the Dear Doctor magazine articles "Important Teeth Whitening Questions Answered" and "Tooth Whitening Safety Tips."