Posts for: May, 2019
By Comprehensive Dental Group
May 20, 2019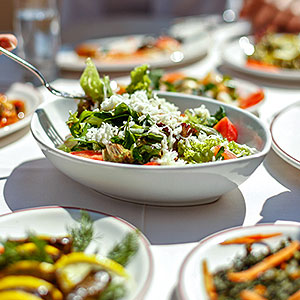 There are a number of lifestyle changes you can make if you want to reduce your risk of oral cancer, with quitting a tobacco habit at the top of the list. You should also moderate your alcohol consumption and practice safe sex to prevent the spread of the human papilloma virus (HPV 16) linked to oral cancer.
And there's one other area that might be ripe for change—your diet. The foods we consume can work both ways in regard to cancer: some, especially processed products with certain chemicals, increase your cancer risk; more natural foods, on the other hand, can help your body fight cancer formation.
Although how cancer forms and grows isn't fully understood, we do know some of the mechanisms involved. One major factor in cancer growth is damage to DNA, the molecule that contains all the instructions for normal cell growth. Certain chemicals called carcinogens cause much of this DNA damage.
One example of these dangerous chemicals are nitrosamines, found in substances used to preserve meats like bacon or ham. Nitrosamines also occur in beer during the brewing process, some fish and fish products, processed cheese and foods pickled with nitrite salt. It's believed long-term consumption of foods with these chemicals can increase the risk of cancer.
On the other hand, there are foods with substances called antioxidants that help our bodies resist cancer. Antioxidants protect cells from unstable molecules called free radicals that can also damage DNA. You'll find antioxidants in abundance in fresh fruits and vegetables, especially those high in fiber. Vitamins like C and E found in many natural foods also have antioxidant properties.
So, to help keep your risk of cancer and other diseases low, make sure your diet includes mostly fresh fruits and vegetables, along with plant-based fats found in nuts or olive oil.  At the same time minimize your consumption of processed foods with preservatives and other chemicals, along with animal and saturated fats.
A change in eating not only reduces your cancer risk, it can also improve your overall health and well-being. You'll also find a healthy diet can be dental-friendly—it can help keep your teeth and gums disease-free and healthy.
If you would like more information on dental-friendly nutrition practices, please contact us or schedule an appointment for a consultation. You can also learn more about this topic by reading the Dear Doctor magazine article "Diet and Prevention of Oral Cancer."
By Comprehensive Dental Group
May 10, 2019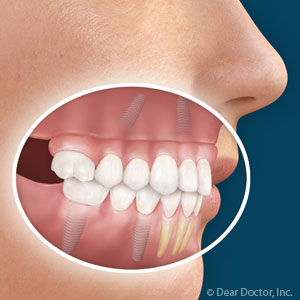 Losing permanent teeth is never good — unlike primary teeth, no natural replacements wait in the wings. But the good news is you have a number of options for replacing them with life-like prosthetic (false) teeth.
Today's premier choice is dental implants, preferred by dentists and patients alike for their durability and life-likeness. But because of their cost when replacing multiple teeth, many people opt for traditional dentures. And now dentures are easier to wear and maintain thanks to new, advanced materials and designs.
Still, there's one major area where implants have the definite edge over dentures — long-term bone health. Older bone cells die and dissolve (resorb), replaced then by newly formed cells. Teeth help perpetuate this cycle through the forces generated when we chew that travel through the roots to stimulate the formation of new bone.
But because this stimulation through a tooth ends when it's lost, new bone beneath the empty socket may not keep up with the resorption rate of older bone. As a result, you could lose as much as a quarter of normal bone width in just the first year after losing a tooth.
This bone loss will continue to accumulate even if you wear dentures, which can't replicate the bone growth stimulation of natural teeth. What's more, the constant pressure on the bony ridge of the gums can accelerate bone loss. Eventually, the firm, comfortable fit you first had with your dentures will become looser and less comfortable with the shrinking bone volume.
Implants, on the other hand, can stop bone loss and may even reverse it. This is because the titanium metal of an implant has a special affinity with bone cells that readily grow and adhere to it. This creates the anchorage responsible for the implant's durability, but it's also healthy for the bone.
Of course, this doesn't have to be a binary choice between the two restorations thanks to a new hybrid advancement that combines implants with dentures. We can install as few as two implants to support a removable denture. You'll enjoy greater stability, fit and durability with your dentures, while also improving bone health through the implants.
So before you decide on a dental restoration, be sure to discuss with us your implant options. Your oral health and appearance could benefit immensely.
If you would like more information on dental restoration, please contact us or schedule an appointment for a consultation. You can also learn more about this topic by reading the Dear Doctor magazine article "The Hidden Consequences of Losing Teeth."