Posts for tag: common symptoms
By Comprehensive Dental Group
December 30, 2014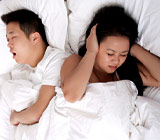 Snoring and Obstructive Sleep Apnea (OSA) is a condition that occurs when the upper airway (back of your throat) collapses or is blocked, causing significant airflow disruption. A person with OSA continues snoring at a regular rate but is interrupted by long silent periods during which there is no breathing for atleast 10 seconds or more. Believe it or not, this issue affects millions of people worldwide. It can leave you feeling tired, depressed, irritable, as well as cause memory loss and poor concentration. And if you have OSA that is left undiagnosed and untreated you could fall victim to heart attacks, strokes, irregular heartbeat, high blood pressure, heart disease and even impotence. For these reasons, we feel it is important that you understand the real-world consequences that can occur if you ignore your OSA.
Reality is that most people are unaware that their dentist can be an excellent resource in helping to diagnose and treat OSA. However the first and most important step is to receive a proper, thorough examination and diagnosis with an appropriately trained physician and dentist. If after completing this process you are diagnosed with OSA, we will discuss treatment options. Some of these may include:
Suggesting that you exercise and lose weight if you are overweight.
Sleeping with a Continuous Positive Airway Pressure (CPAP) machine that provides pressurized air into your airways through a mask that covers both your nose and mouth while sleeping.
Sleeping with a professionally made oral appliance or mouthguard that can reposition your lower jaw, tongue, soft palate and uvula (the dangling tissue in the top, back portion of your mouth) into a better position during sleep to relieve blockage.
If you are ready to discuss you questions and concerns about your snoring, or the snoring habits of another family member, contact us today to schedule a consultation. You can also learn more about the signs, symptoms, and treatment options when you read "Snoring & Sleep Apnea."
By Comprehensive Dental Group
May 14, 2014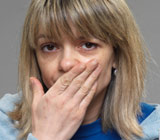 While most people can expect to have a temporary case of bad breath after eating spiced foods like garlic, smoking, drinking coffee or wine, odor that persists and becomes chronic is not something to take lightly. We can help diagnose the underlying cause of your bad breath, making both you and the people around you much happier!
Chronic bad breath, also known as "halitosis," affects about 25% of Americans to some extent. Treating the condition effectively requires a thorough oral examination to uncover the source of the odor. Although some forms of bad breath can be caused by medical conditions like diabetes, lung infections, even kidney failure and cancer, between 85% and 90% of cases originate in the mouth. There are more than 600 types of bacteria found in the average mouth and, given the right (or, should we say, wrong) oral environment, dozens of these bacteria can produce foul odors including a "rotten egg" smell from the production of volatile sulfur compounds (VSCs).
Some of the oral causes of bad breath include:
Naturally occurring bacteria found on the back of the tongue that thrive on food deposits, dead skin cells and post nasal drip (Yuck!);
Dry mouth, after sleeping, especially when an individual breathes through his or her mouth;
Unclean dentures;
Decaying or abscessed teeth;
Diseased gums; and
Infected tonsils.
Once the exact origin of the odor has been determined, we can tell you what form of treatment you'll need to successfully banish the bad breath for good. If your problem is merely the result of poor oral hygiene you can play a large role in turning your situation around. In any case, treatments for mouth-related halitosis can include:
A careful, at-home plaque control routine using dental floss and a special toothbrush designed to clean between teeth — nobody really knows how to properly clean without professional instruction;
In-office and at-home tongue cleaning using a tongue scraper or brush;
Instruction on how to properly clean your dentures;
To treat underlying gum disease, periodontal therapy in the form of a deep cleaning, also known as scaling or root planing; and
Extraction of wisdom teeth that exhibit debris-trapping gum tissue traps.
So if you are ready to toss your breath mints away and pursue a more permanent solution to rectify your mouth odor, call our office today to schedule an appointment. For more information about the causes of bad breath, read the Dear Doctor magazine article "Bad Breath: More Than Just Embarrassing."