Posts for category: Uncategorized
By Comprehensive Dental Group
March 11, 2019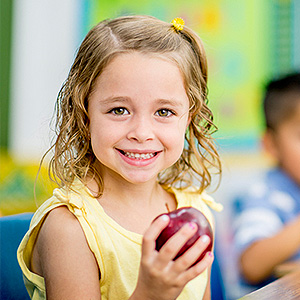 Besides daily hygiene and regular dental visits, the best thing you can do for your kids' dental health is to see that they're eating a nutritious diet. And not just at mealtime—healthy snacking also promotes healthy teeth and gums.
Healthy snack foods are quite similar to their counterparts at mealtime: fresh fruits and vegetables, whole grains and low-fat dairy. At the same time, you should avoid providing processed snacks high in sugar, salt, unhealthy fats and calories.
Managing snack choices at home is usually a simple matter of discipline and follow-through. When they're at school, however, it's a bit trickier as they may encounter snacks sold on school grounds or offered by fellow students that don't meet your definition of a healthy food. Public schools follow nutrition guidelines from the U.S. Department of Agriculture (USDA) on snacks sold on school grounds, but many dentists don't believe the standard goes far enough to protect dental health.
So, what can you do to combat these less healthy snack choices your kids may encounter at school? For one thing, you can work with your child's school officials to exceed the USDA guidelines or turn off snack vending machines right before lunch to lessen kids' temptation to skip lunch.
You can also interact with your children to better manage their schooltime snacking. But rather than issue blanket commands about what they should snack on at school, help them instead understand the difference between nutritional foods and less nutritional ones, and why it's important to choose healthy snacks for their life and health.
Finally, don't send them to school empty-handed—pack along nutritious snacks so that they won't seek out vending machines or their classmates to satisfy the munchies. You can supercharge your efforts with a little creativity (like a dash of cinnamon in a bag of unbuttered popcorn) that make your snacks fun and more enticing than other school ground options.
It's not always easy to keep your kids from unhealthy snack choices. But with a little commitment, interaction and ingenuity, you can help steer them toward snacks that are tooth-friendly.
If you would like more information on boosting your child's dental health, please contact us or schedule an appointment for a consultation. You can also learn more about this topic by reading the Dear Doctor magazine article "Snacking at School: How to Protect Your Child's Teeth and Promote Good Nutrition."
By Comprehensive Dental Group
January 28, 2015
Learn all about the inner workings of a dental implant.
If you are dealing with one or several missing teeth, then chances are you have been conducting a lot of personal research and talking to your Stamford, CT dentist about treatment options. It's vitally important to act fast and to treat your tooth loss so you don't have to deal with further problems as a result. If you've been scrolling the Internet for treatment advice then you've probably heard about dental implants. However, how much do you really know about this tooth replacement treatment and how it works?
About Dental Implants
The dental implant replaces a missing tooth and consists of three different parts:
The implant: The implant is a tiny titanium post that is surgically implanted into the bone of the missing tooth's socket. The main purpose of the implant is to act as a tooth's root.
An abutment: This metal piece is placed over the implant and serves as a connector between the implant and the artificial tooth.
A dental crown: This crown is securely held in place by the abutment. Dental crowns are also used to preserve a damaged tooth, particularly after root canal treatment.
Dental Implant Treatment
After the implant is surgically placed into the jawbone, we allow the implant to remain there for several weeks. During these weeks of healing the surrounding gums and bone start to grow around the metal, making it a permanent foundation which will hold the crown. Once this process is complete, we will place the abutment on the implant. The last step is to then securely attach the dental crown to the abutment to give you a complete smile.
This treatment process can take anywhere from six to eight months to complete and two separate procedures are required.
Dental Implant Care
Dental implants can be treated just like regular teeth, which also means that you need to continue to brush and floss normally. Even if the crown can't develop decay the surrounding natural teeth are still susceptible to cavities and gum disease, which can cause an implant to fail. That's why anyone who wants to get implants should be ready to keep up with their oral hygiene.
If you are interested in finding out if you're an ideal candidate for dental implants then call our office today. Your Stamford, CT dentist would be happy to sit down for a consultation and determine how to best restore your smile.
By Comprehensive Dental Group
December 18, 2014
After finally getting your gorgeous white smile from your favorite Stamford, CT dentist at Comprehensive Dental Group, the last thing you want is to allow your teeth to become discolored again. Yet, the same bad habits that discolored your teeth the first time are likely to have the same effect this time--unless you change your habits, that is. Want a brilliant white smile that lasts and lasts? Here are four post-teeth whitening smile care tips you need to know.
1. Brush Regularly
The most important step you can take to keep your teeth white and to avoid needing another whitening treatment from a Stamford, CT dentist is to brush your teeth regularly. Brushing is the best way to remove all the food particles and bacteria from the surface of your teeth. Don't let these particles and germs build up; brush at least twice a day--morning and night. Be sure you floss as well, in order to get anything stuck in between your teeth.
2. Avoid the Worst Offenders--Especially in the First 48 Hours
If you want to maintain your new brilliant smile, it is absolutely essential that you avoid anything that could stain your teeth for the first 48 hours. This will give the surface of your teeth time to harden and seal in that bright white color. Stain-causing substances include not only tobacco, coffee and soda, but also lipstick, berries, ketchup, red sauces and even lettuce. (Ask your Comprehensive Dental Group dentist for a complete list.)
After the first 48 hours, you can return to enjoying all of your favorite foods, just be sure to keep stain-causing substances such as coffee, tobacco and soda to a minimum if you can't quit them altogether.
3. Rinse Often
Drink coffee first thing in the morning and it will stay on your teeth all day long until you brush before bed. For those times during the day when you can't brush, be sure to at least rinse with water or mouthwash. This will help keep bacteria and food off your teeth and your smile looking fresh.
4. Visit the Dentist Regularly
Lastly, be sure to visit your favorite Stamford, CT dentist at Comprehensive Dental Group regularly. Regular dentist visits are crucial for keeping your teeth clean, bright and shiny. Go ahead and you book your next appointment right away, even if it's still a few months off. This is one important appointment you won't want to miss!